Empowering your business to harness big data
Data science and analytics offers significant benefits for every level of your organisation, but weaving it into the fabric of your culture can be difficult. Silvio Giorgio, Australia Post's General Manager of Data Science, shares how his team has transformed Australia Post's data capability – and how it can benefit your business. 

Key points
Data analysis is key to turning information into valuable interventions.
Coach and encourage people across your business to find the answers themselves.
Australia Post's data and AI tools are helping improve services, at scale.
Organisations have significantly more data available than ever before, but turning that data into useful information continues to be a challenge.1
Silvio Giorgio, Australia Post's General Manager of Data Science, recently topped the 2020 Institute of Analytics Professionals of Australia (IAPA) Top 25 Analytics Leaders list.2 IAPA noted the increasingly strategic role of analytics in business, with executives seeing the increased importance of data.3
Bringing the whole business on the journey, and clearly communicating the benefits of a data-driven culture, has been the catalyst to creating a widespread belief in the power of analytics at Australia Post.
According to Giorgio, Australia Post had a fundamental belief in the power of data – which made this task more straightforward, and has already driven better results for employees and customers.
"Everyone in the business – from boardrooms to the delivery truck – is willing to use data. Our focus at Australia Post has been to inspire the art of the possible with data intelligence, to take data to insight, and through to intervention."
Building trust in big data
Giorgio believes the biggest obstacles to creating a data-driven business aren't technical; they're cultural. When he was initially made responsible for data science and strategy at Australia Post in 2016, he says there was a "top-down expectation that decisions would be anchored in data, and a belief in data's potential – but the understanding of how it could tangibly improve business performance is less common."
So while his team has worked hard to improve its technical assets to better track deliveries, health, wellbeing, transport and more – that was only part of the equation. Data analytics had to become a constant presence in the decision-making process, not just an occasional reference point.
Giorgio established three mantras for increasing data science adoption across Australia Post:
Make it 'mind blowing' 
The way information is presented can be creative, and game-changing findings deserve a 'wow' reaction. "We decided from day one that if we were going to do this, we were going to do it in a way that blows people's socks off. There's no time for mediocrity," says Giorgio.
Make it fun
To make Australia Post's data tools more accessible, the team steers clear of acronyms and generic names. "Using names from classic TV shows and movies – such as Zoltar, Doogie, Optimus, and Dexter – helps make these complex tools seem more approachable," he explains.
Make it understandable
Giorgio sees his team's role as teaching others how to use data science – not protecting the profession by simply adding analysts to teams. "We spent time coaching and encouraging people across the business to find the answers themselves."
Accessible tools track business operations
By empowering people across the business to regularly use data science, Australia Post has been able to turn valuable information from its technical assets into real-world solutions.
For example, data asset 'Doogie' analyses health and wellbeing data, including attendance, leave and incidents across 35,000 employees.
"Our analysis identified correlations between non-evident causes of motorbike incidents amongst delivery officers, and found an incident is 50% more likely after a postie returns from a holiday of seven days or longer – regardless of how long they have been doing the round," says Giorgio. This is the type of valuable insight that can lead to strategic interventions.
Another data assets is 'Zoltar', which analyses every article delivered to every Australian address across over 900 attributes.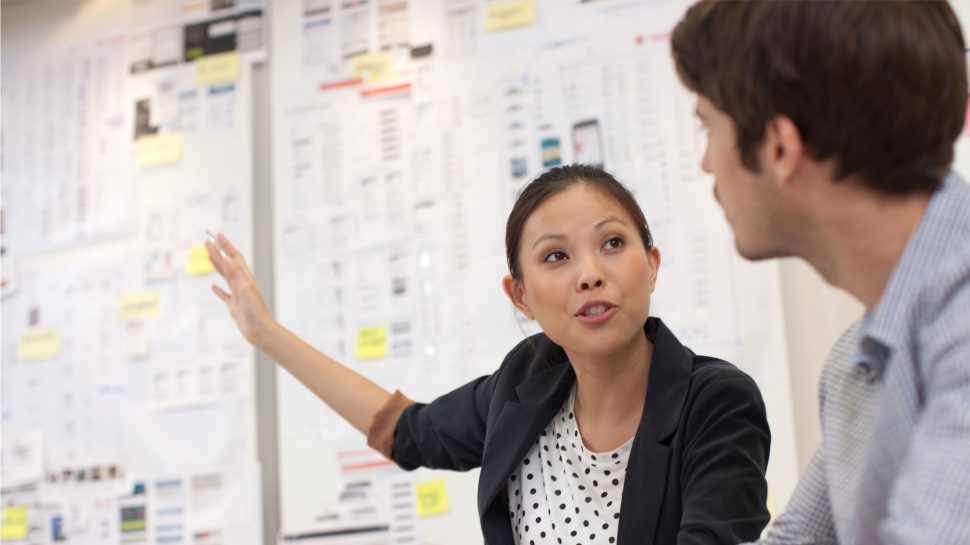 A data-driven, problem-solving partner
Giorgio sees potential to share appropriate elements of Australia Post's vast data pool with customers, to help them in turn create better services and solutions.
"We've got the capability and the data to partner with businesses or government agencies to help them better serve their customers and the community. This could be really powerful – we could, in a safe way, use data to inform their strategies, or our collective strategies, around growth, optimisation and customer experience."
Australia Post's Bank@Post strategy4 is just one example of this. "Over 2,520 of our 4,300+ Post Offices are located in regional and remote Australia," explains Giorgio. "We wanted to ensure a sustainable banking service for Australian communities in the future and help reduce the impact of any community bank closures."
"So our analysis identified communities where there was a Post Office, but no local bank branch, and that informed our strategy and how we engaged with banking partners."
The Deliveries Network teams at Australia Post are leaders in using data intelligence to inform ideas to reduce costs or improve customer service. For example, our AI databot 'Dexter' monitors delivery processing data every day to empower our frontline workers to deliver optimal customer experiences at scale.
"We ensure around 1.3 million parcels are delivered every day," explains Giorgio. "We've run trials, where Dexter sends notifications to facility managers about late flights and trucks, checks if any expected parcels have not been scanned, and helps reset expectations with customers."
"It sends a list of parcels going to addresses where we have recently received a complaint, so the delivery officer gets that feedback in context of the next parcel delivery."
Dexter also supports improved compliant resolution at customer contact centres. By re-interpreting incorrectly entered article ID numbers, it can confirm information about a parcel location and delivery date through the Interactive Voice Response system (IVR), rather than forcing the customer to wait for a human agent to answer their question.
Working together to build a data-driven culture
While "becoming data-driven" is now a common goal for many businesses on a path to digital transformation, this can only happen when data – in all its forms – is successfully embraced by the business, and managed in a way that connects siloes of information.5
This may be where working collaboratively with a data driven partner could help. "Australia Post's sales teams are proactively looking to help customers solve problems, and we now have the insights to help them develop more informed solutions," notes Giorgio.
As Giorgio and his team have found, data has the potential to lift how people, customers and communities experience Australia Post. But building capability isn't enough: it needs to become part of the culture.
"When a business understands the power of data intelligence, it can unlock its power. We've seen this at Australia Post – and it's our job to help inspire the art of the possible with the technologies available today and those on the horizon," he concludes.