Important information for Australian passport applicants

Due to increased demand for passport services, we advise you to allow a minimum of six weeks to get a new passport or renew one. For urgent applications, priority processing is available for $237.

Check your eligibility
Firstly, make sure you're eligible for an Australian passport. The main eligibility requirement is Australian citizenship. That means you're either born in Australia or you've got a certificate of Australian citizenship.
Fill out and print your form
Use black pen
Use CAPITAL letters
Write inside the boxes
Ensure both your, and your guarantor/referee's handwriting is clear and legible
If you sign before attending your passport application lodgement, make sure you sign within the designated space
A handy tip for making sure that your application is printed successfully is to check that the signature box has markings around it (so it's easily visible) and that the triangles on the page are all the same size and shape.
Paper Type:
A4 plain white
210mm x 297 mm
Print orientation:
Portrait
Single sided only
Print quality:
Normal to high resolution
Colour or black and white is acceptable
The print must be clear, not light or blurred
Print setting/Page scaling:
If you are using A4 (international standard)

Choose 'Fit to Printable Area'
Paper weight:
Printer:
Good quality laser or inkjet
See more tips on printing your passport application form correctly
Get your ID documents in order

You're going to have to present some documents to prove your Australian citizenship. You can use either:
your birth certificate or
your certificate of citizenship. 
Has your name changed since you got those? Your passport will be issued in your birth name unless you've officially changed it with the Australian Registry of Birth Deaths and Marriages and you'll need the proof of that too.
You also need to present documents to prove your identity. They typically include:
your current driver licence
Medicare card
Centrelink card
a credit or debit card
property rate notice or lease agreement
utility bill or bank statement. 
For details check the Australian Passport Office website.
Your ID must be the original document, no copies are accepted. Your ID also needs to display your date of birth, address and match the name shown on your application. If your ID doesn't show your photo, then you'll have to complete two guarantor/referee pages, or two referees if you're using the online application form.
Learn more about ID requirements to prove your Australian citizenship and identity.
Ready, set, snap
All set? Now it's time to get a photo of yourself and it's not just a matter of taking a selfie. There are strict guidelines about what a good passport photo is and what isn't. If your photo is rejected, you could delay your passport application, or even fail to get one. It's that important. Guidelines include size of photo and having your eyes open and looking straight into the camera.
Also, make sure your skin tone reflects true colour. A filter might be attractive on Instagram, but not for a passport photo! Image filters can confuse the passport systems biometric matching, and that can cause issues for you when you're trying to go through the airport. So don't remove your beauty mark, or add a bit of lip gloss, don't digitally enhance your photos at all.
No cute head tilts, hair on face or pouty expressions either - just face the camera, keep a neutral, natural expression and your photo will work for your passport. You'll also need two hard copies of it.
To tick all the boxes for your passport photos, follow these steps:
Look directly at the camera
Don't smile
Take your photo against a light background (preferable grey)
If a guarantor/referee is required, make sure they sign the back of one of your photos
Don't have any digital enhancements made to your photos, including background removal
Confused? Let an expert at Australia Post take care of it for you. Australia Post counter operators are trained to take photos that comply with passport photo guidelines. These should be completed prior to lodgement when a guarantor/referee is required.
More tips for getting your passport photo right.
Check that your guarantor/referee meets requirements
The Australian Passport Office sets requirements that any guarantor/referee must meet. Before you file your application, check that your guarantor/referee meets those requirements.  
File your application
Excellent. You've got all that lined up. Now it's time to fill in the passport application, which you'll find on the Australian Passport Office website. You can either do that online, or head into your nearest Post Office to get a hard copy. Make sure you fill out everything. It sounds obvious, but one skipped question and your application won't go through, so take your time and double-check.
You'll also need another person to fill in some information. This person is called a guarantor/referee of your application. They need to be over 18 and have known you for at least 12 months but not be a relative or someone living at the same address. They must also be a current passport holder or on the electoral role. And they'll need to sign the back of one of photos, too, as well as writing "This is a true photograph of …" then your name.
Be sure to remember, no fancy purple pens! Everything must be in black ink. It's a legal requirement.
Your application fee
Your completed application form(s)
The specified documents and information required for your type of application

Two colour photos less than 6 months old with one endorsed by your guarantor/referee (unless the online application form is completed) 
Original document that proves citizenship and place of birth
Original ID document and a photocopy of the original 
Original proof of name change issued by Births, Deaths & Marriages, if required
Any other documents listed on the online application form if this form has been completed
If the applicant is a child under the age of 16, they don't need to attend the application lodgement
If the applicant is a child of ages 16 or 17 at the time of the application lodgement, they are required to attend with their parent/guardian 
Parent/guardians must bring photo ID linking you as the legal parent/guardian 
Both parent/guardians must complete page 8 or the appropriate "b" form should be completed
Your existing passport
Two colour photos less than 6 months old with your name written on the reverse of one
Identification that confirms your identity, such as an Australian driver licence
A few final checks
Okay, you've got everything in order. Now all you have to do is find your nearest participating Post Office that can accept your passport application. This lodgement is really easy, and they'll just ask you a few formal questions and check your form and photo to make sure everything is in order. You'll pay your passport application fee.
Next, they'll send off your application, so all you need to do is wait. You can find current wait times on the Australian Passport Office website and if you need a passport in a hurry, ask about the priority processing service.
Next thing to do? Remember to take your passport to the airport and enjoy your travels.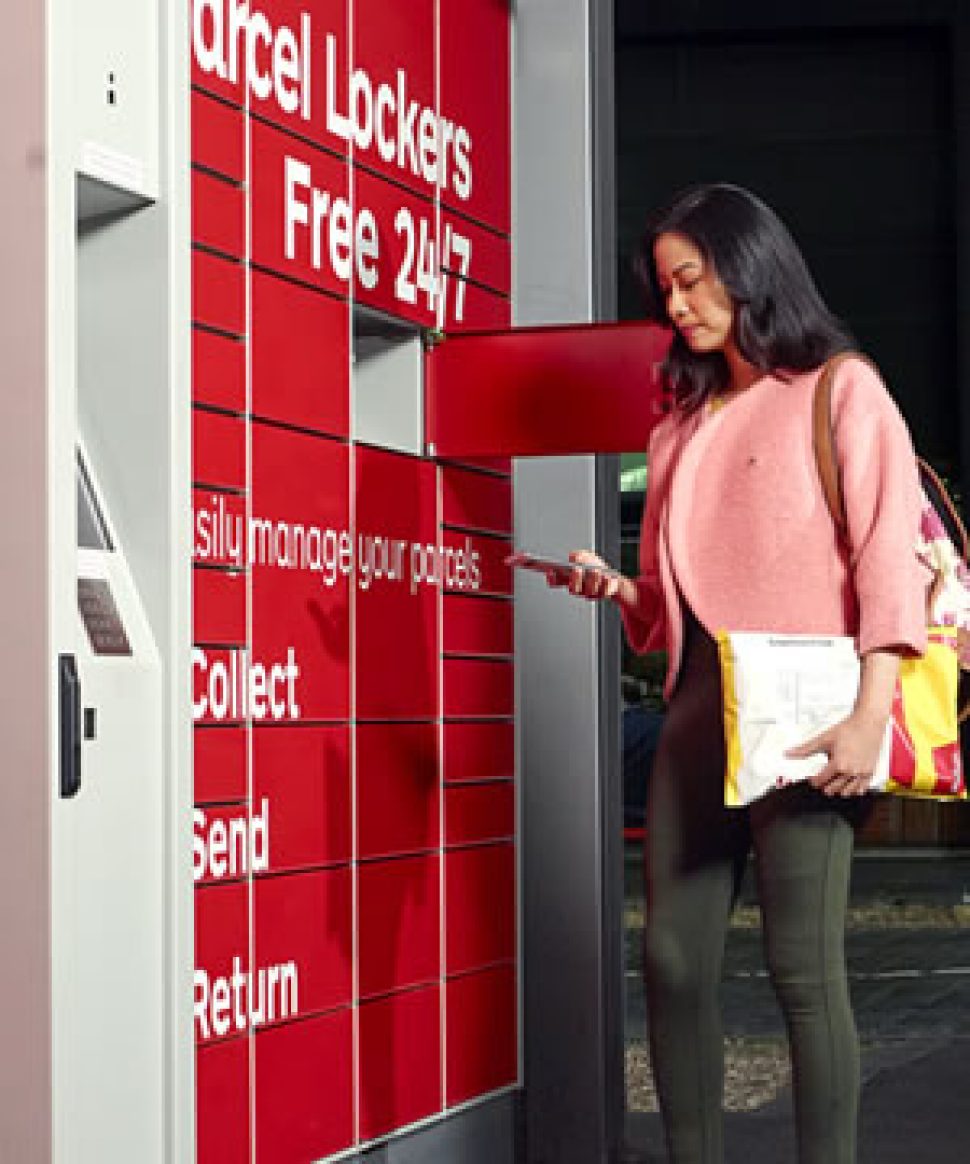 Find a 24/7 Parcel Locker near you
Search for nearby Post Offices and street posting boxes, or specific services.