Addressing your mail correctly
Our advanced letter sorting technology reads addresses electronically, so it's important you address your mail correctly.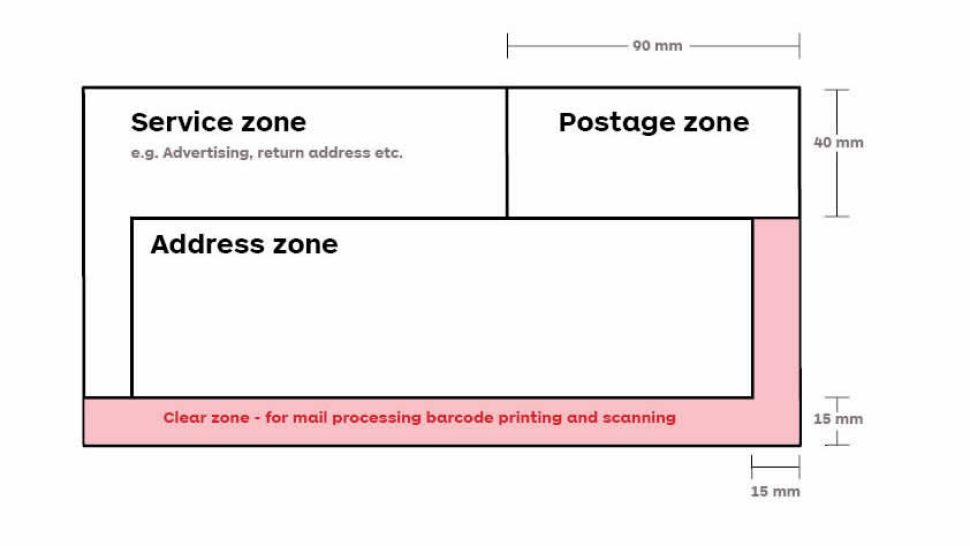 The address in three easy steps
Write or print the address in the centre of the envelope (Address zone)
Add the address in three to four lines:

Line 1 should contain the recipient's name. Where both a business and recipient name is required, the business name should be used in line 1 and the recipient's name will move to line 2.
Line 2 should contain the street number and name, or PO Box or Locked Bag number.
Line 3 should contain the locality or suburb, state and postcode and be written in capital letters.
For international mail, the country name should be written in capitals on the bottom line.

Include a return-to-sender address in the same format as the recipient address. It should be placed in the top left-hand corner of the envelope (Service zone) or on the reverse of the envelope.
Helpful hints for addressing envelopes 
Print clearly using a black or blue pen.
Don't indent or stagger address lines.
Don't underline any words or use punctuation.
For machine-addressed envelopes, use a clear, readable font type such as Helvetica, Arial or Times Roman.
Check the locality or suburb matches the postcode using our 'find a postcode' tool.
The postcode should be included on the same line as the locality or suburb and state.
Leave spaces between the locality, state and postcode.
For more information, download our Correct Addressing brochure (PDF 261kB).
Including Traditional Place names
To acknowledge the Traditional Custodians of the land your item is being delivered on, you can include those place names in the address field. 
To find Traditional Place names, check AIATSIS, Aboriginal and Torres Strait Islander Land Councils, or Cultural Centres in your local area.
When sending items you can include a Traditional Place name in either the address you're sending from, or in the recipient's address.
In the 'from' address when sending
To ensure that the item will be delivered correctly we recommend that the Traditional Place name is included below your name or company name, but above the street address.

In the 'to' address when sending
When addressing a parcel or letter, place the Traditional Place name after the recipient's name, but before the street address, suburb or town.
When receiving items
As a recipient you're welcome to include a Traditional Place name when providing your delivery address, either online or in person. 
To acknowledge Traditional Custodians, include the Traditional Place name below your name, but above your street address.
At Australia Post, we have a long and proud history of promoting and celebrating Aboriginal and Torres Strait Islander Culture and implementing measures that contribute to a lasting reconciliation between Indigenous and non-Indigenous Australians.